Power supply positive-negative-ground from a single power supply
I like to try different circuits. Using adapters as a power source. Which it has disadvantages be it can not turn on the negative power supply.
However, this circuit can supply both positive and negative.
This circuit is used IC number NE555 set up to stable multi vibrator.It produces a frequency rectangular patch of about 100 Hz.Out to pin 3 through C3 and C4. Before the rectifier power section. Both positive and negative DC 2 series.Positive power supply will work with the rectifier D1 and D2.When a positive signal to be via D2 to the output. And filtered from C5 to filter the pressure to smooth again. But if there is negative signal to the D1 and down through the ground.The negative power of the D3 and D4 the rectifier.When a negative signal to the output signal to be via D3. And will be filtered from C6 to smooth again.When a positive signal to be via a D4 to ground.
dc to dc converter using ic ne555
This circuit is called DC TO DC converter circuit.Which increase the voltage circuit.There can be customized to change the output values.
When the power supply input to IC1 is the output pin 3 at a frequency of 1 kHz.The frequency is Q1 and Q2, which will continue to use push pool work interchangeably.If this is the positive output signal Q1 Q2 will run the delete function this reason, C2 and C3 capacitors are half-wave alternating.
When to use. Voltage from C2 to C3 is discharged out to the input voltage over almost two times less than 2 times due to the loss of diodes D1-D3.
Negative supply voltage low current
This circuit is a negative power supply integrated. Which can be applied to circuits that do not need much flow. Using IC No. 555. The core of the circuit.
Work of the circuit is IC1, R1, R2 and C1. The range of the A Stable Multi Vibrator, and the output is a square wave. It is a positive signal pulse frequency of 2.3 kHz output pin 3 of IC1.And C3 and D1 connected to circuit CLAMP. That it serves to signal a positive pulse to pulse signal negative.The D2 and C3 act negative pulse signal is converted direct current (DCV) electrical signals. The negative power. Thus the output voltage to a negative DC electrical.
DC converter 6V to 12V by BD679
This circuit is power supply circuit, again the circuit that have the merit is if we want dc voltage 12V but , we have 6 volt only the circuit can modify DC voltage 6 Volt be 12VDC get.
The principle works of the circuit is Q1, Q2, R1, R2, R3, R4, R5, D1, C1 and C2 build the circuit is model astable multi vibrator give output be Square Wave. Which be positive pulse signal at have many frequency. And have R6 perform be limit current already flow come to reach at a pin B of Q3 and a pin C of Q4 in this condition current at flow come in pin way B of Q3 make Q3 bias. But Q4 still not bias. Because of still have no current bias at a pin B. When Q3 bias make have current flow through L1, D2 change ZD1 cause drop voltage at ZD1.
Which be output voltage and voltage this increase continually poverty voltage that equal to 12 the volt. By have R7 be limit current already change come in the way pin B of Q4 make Q4 work be make Q3 stop bias. Then make output voltage be 0 volt, but when positive pulse signal that made come to then change come to at R6 then make Q3 bias again. And work character as before but there are many speeds then can make output that appear can come out 12 volt all the time by have C3 perform in something current filter smoothly before increasingly lead output voltage go to be usable.
3 volt car adapter by LT1074
This 3 volts Car Adapter circuit is based on a standard LT1074CT switching regulator IC. The schematic shows the LT1074CT used as a positive step-down or 'buck' converter. The 'switcher' is used to convert a +12-volt car battery voltage down to +3 volts for use with the personal hi-fi's and handheld games for the author's two boisterous children on long car journeys. Note at under ten years of age, children will rarely be hi-fi aficionado's and are generally not concerned with any noise generated by the 'switcher 'circuit. [...]
Convert two-level DC voltage 5V, 12V
Work cycle is entering AC Current power supply 220Volt the transformer T1 will convert AC to lower left 9V will be switched from AC power into DC with D1-D4 connected to circuit Rex Comment fire Bridge Terminal. (Bridge-Regtifier) will be Current Filter to smooth further the capacitor C1, which at this point can be used as Vout by'll volt approximately 12Volt the output level one will be diode D5 acts to prevent AC voltage. through the connection of the output level will be a DC current flowing into pin 1 of IC1 by IC1 acts as the regulated voltage to 5 volts out in three legs of IC1, the output level.
The second capacitor C2 and C3 is a current filter to smooth more.
9V battery changed to -5V
To test the circuit or circuits that may need some circuits, but we have no fire-5V power supply-5V, but if the battery 9V circuit can allow us to use the volt-5V as desired.
By using IC NE555, which causes wave square the sector output allows the voltage about 6V when the signal on the output from a pulse plus C2 acts charge through D1 to ground and if the pulse negative capacitor C2 will discharge. through diode D1 and capacitor C3 to chage that negative voltage is about-6V, but being removed to the number of left-5V zener diode ZD1 current output will be approximately 12mA.
Boost up voltage for relay by BC558
Using relay general the majority then to use power supply that have DC Voltage with the value volt that specify on relay. For relay work but , if , we have no power supply that want to feed give relay. This circuit helps to give relay can work.
From the circuit uses two power supply from at for come to work give Relay 12V work. The power supply first use 6Volt when feed volt come in touch C1 charge take keep. The power supply that 2 use voltage more than 3V feed come in the way input make Q1 work. It make Q2 work go to with be make C pin of Q2 have voltage source 6V feed give relay Ry1 and When Q1 work will compared as something through the circuit down ground. It make C1 do something discharge 6Volt come out of the cathode of capacitor C1. Which build with a pole of relay RY1 again beside one make have drop voltage relay RY1 equal to 12V. Then make relay RY1 work and will work long ago only? that depend on something discharge of capacitor C1.
Doubler voltage 12vdc to 24vdc with NE555
This be Simple Doubler Voltage circuit, from voltage 12VDC to be 24VDC. By use Timer IC highly popular the number NE555 and other equipment a little again. It can give current get about 50mA convenient for the circuit, that use low current the small-sized.
The principle works of the circuit be, When use Volt input 12VDC give with the circuit will touch Filter current smoothly with increasingly. The capacitors C5 give with IC1, The resistor R1,R2 and , capacitors C1, Which build the circuit model astable multi vibrator Square wave generator, at the frequency about 2KHz come out the way pin 3 of IC1. By have capacitors C3,C4 diode D1 and D2. Which build be boost up voltage x 2,which will enhance the level Volt out be the direct current about 24VDC or 2 times of the level Volt input.
Simple step down dc converter multi voltage
This again the one circuit that can is dc regulator the many voltage get simplely. Or Simple step down dc converter multi voltage. By have R1 be formed fix the size of current, when Q1 2N3904 work by voltage output equal to volt at a pin B of Q1 2N3904. When compare with ground. Which volt be under zener diode the connection and a pin B of Q1. It can fix dc voltage many the level Vout : 3V that sizes have from VZD1, Vout = 6V Volt , fall straddle ZD1+ZD2, Vout 9V volt fall straddle ZD1+ZD2+ZD3, Vout 12V Volt fall straddle ZD1+ZD2+ZD3+ZD4.
Single chip voltage converter by HV4205E
With HV4205E you can build a simple single chip voltage converter. With IC and a few external components connected like in the schematic you can obtain dc stabilized voltages between 5 to 24V directly from main power source (100 to 260V ac). The maximum output current is 50mA.
[...]
AC to DC Converter using MC34161
This AC to DC converter circuit is capable to convert an alternative voltage from 70 – 260 Vac into a DC voltage from 180 to 250 Vdc.
To achieve this convertion we use a rectifier MC34161 as a voltage doubler at low input voltages and as a classic rectifier at high input voltages.
MC34161 includes a reference power supply which delivers 2.54V at pin 1. The signal level applied at pin 2 is internally compared with a 1.27V voltage.
D5 zener diode, togheter with R1 and C4 provide IC's required 12V voltage. Capacitor's voltage of C2 and C3 must be > 250V. [...]
DC Voltage Doubler with 74HC132
This is a cheap DC Voltage Doubler Circuit diagram, which requires a few components and will deliver 10V from a 5V power supply. If the oscillator must be built from a non-functional gate then is required 2 more components: R1 and C3.
The most important parameters of this voltage doubler circuit are given in the table below. Note that because of the IC tolerances these data may have some differences.
6v to 12v converter by TDA2003
This 6V to 12V converter circuit is made with an IC from SGS with several additional components. The IC is a TDA2003 but it can be replaced with a TDA2002. The cost of building the 6volts to 12 volts converter should be low enough to justify constructing it instead of modifying the entire equipment setup to work directly with a 6 volts power supply. The two principles of simplicity and functions properly without the need of the transformer.
The IC1 opam functions as a stable power multivibrator. Its oscillation frequency is determined by C3. Its oscillates at around 4kHz at standby and increases in a loaded condition up to around 7kHz. The output of the IC2 opamp is identical to the IC1 oscillator signal but in the opposite phase.
When the output of IC1 is at zero, the C4 charges via the diode D1 up to the power supply level minus the voltage drop at D1. When the IC1 swings to the opposite direction, its output become positive. The output voltage from IC1 adds up to the voltage stored at C4 forcing the diode D1 to stop conducting. C5 then charges via the diode D2 to a voltage that is double than the power supply level.
The theoritical output could reach the triple of the supply voltage. TO guard against unnecessary voltage increases at low current consumptions, a limiter stage was added to the circuit composed of a 15 volt zener diode and a darlington transistor T1/T2. This stage caps the output voltage to about 14.2 volts. To fiter out ripple from the output, C8 was also added. This helps prevent the hum signal from being noticed on radio or audio devices.
In constructing the 6 to 12 volts converter, attach the ICs to a common heatsink close to the pcb. THe transistor must be attached to a separate heatsink. To get a much higher current output from the converter, C4, C5 and C6 must be increased to 2200uF.
DC Converter 12V to 24V using LM358-BC337
This simple circuit is a DC-DC converter that converting up 12V source to a 24V. It can be used to run radios, small lights, relays, horns and other 24V accessories from a 12V vehicle with a maximum draw of about 800mA.
his DC-DC Converter can be used to charge one 12V battery from another, or step up the voltage just enough to provide necessary overhead for a 12V linear regulator. Using one op-amp as a squarewave oscillator to ring an inductor and another op-amp in a feedback loop, it won't drift around under varying loads, providing a stable 24V source for many applications. With a wide adjustment in output this circuit has many uses. [...]
Micro DC Converter 3V to 9V using TL496
This be Micro DC Converter circuit. It perform modify from battery 3V or AA cell 1.5V x 2 be dc voltage 9Volt sizes. By this circuit s use electronic part a little 4 only just. By have IC TL496. It perform be switching edit the circuit for the energy collects to enter still the coil pulls to lead already lead electric upland energy go up this go to can control the pressure about 9V by have pick to load perform filter voltage smoothly, fully be usable next. See the detail adds in the circuit.
12V to 9V 2A step down dc converter using IC 741 and 2N3055
This circuit designs for modify power supply input 12V from battery or the other. Have the level voltage be down be left 9V be stable or , 9V at 2 Amp DC power supply . By this circuit gives usual equipment , seek easy. Be integrated circuit IC 741 and power transistor 2N3055. Besides this circuit still can fine to differ out voltage with well and have picture stability although load modify. The zener diode 8.2V be formed fix stable reference or voltage the referable at pin3 of the integrated circuit and the VR1 for give fine the level volt output.
DC 12V to DC 6V-7.5V-9V Converter using 2N3055
This circuit is DC to DC converter model step down voltage. That can modify voltage input 12V DC from be DC 6V , 7.5V and 9V by have the size current about 1A – 2 Amp think. Be easy circuit use Zener diode maintain one's position voltage. Be stable and have transistor 2N3055. Perform enlarge the trend tallly go up fully be usable next , see the detail in the circuit and read to add
Cheap high Voltage Low Current DC to DC inverter
This circuit is DC to DC Inverter which , can modify from DC Voltage of Battery 12V be DC High Voltage 300V get. By this circuit has lowness current. Then build easily and use general equipment. such as The Transformer the general also the work. And the integrated circuit, Transistor also the number that seek easy with. IC 555 is A stable Multi vibrator perform Square wave frequency Oscillator or pulse generator go out at pin 3 make Q1,Q2 work alternate send the electric power goes to still Transformer change Rectifier Circuit have DCV 300V the way is Output for apply the work next. The Q1 and Q2 are hold heat sink with. The detail is other request friends see in the circuit which not difficult. Request have fun Cheap high Voltage Low Current DC to DC inverter Circuit , please sir.
DC Power Supply 300V From battery 12V
This be DC Converter Battery 12V to DC 300V. By 2N3055 transistors and 2N1305 are pillar equipment and power transformer transform the sky tallly go up then change voltage regulator rectifier with diode and Capacitors make output have voltage about 300V at Current 55mA. With this circuit a friend can apply the work next. Request have fun , DC Power Supply 300V or DC Converter 300V , please sir.
12VDC to 37V DC converter by SG3524
12VDC to 37V DC converter by SG3524
Hello there!! How are you doing?
When my friend of I wants DC to DC converter circuit +37V GND -37V sizes use an automobile s have Voltage 12VDC. By he takes this circuit goes to Power Supply with , Mosfet Power Amplifier 100W RMS. A hand sees 12VDC to 37V DC converter Circuit this. Will use prominent equipment interesting be IC SG3524 (Regulating Pulse-Width Modulators) Then be usable easy and convenient. Besides still power mosfet number BUZ11 6 amounts are perform drive a pot modifies the Secretariat of the Senate runs away to give electric tall many power. The detail is other see in circuit picture sir. Hope you guys had a great weekend.
USB to 5V SEPIC DC-DC Converter with Short-Circuit Protection
The single-ended primary inductance converter (SEPIC)
shown in Figure 3 IC LT1618 is ideal for applications where the
output must reduce to zero during shutdown. The input
current limit not only helps soft-start the output but also
provides short-circuit protection, ensuring USB device
compliance even under output fault conditions.
5VDC Switching regulator from 9V battery by LT1073-5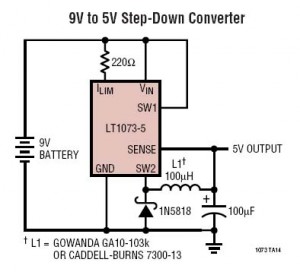 When i want 5V switching regulator (mini project),so i am used input is 9V battery.
The good circuit for work is the IC LT1073-5 (see detail in www.linear.com), it out put 100mA current.
The zener diode is 1N5818,L1 = 100uH
Detail more please see in image.
9V to 3V Step-Down Converter by LT1073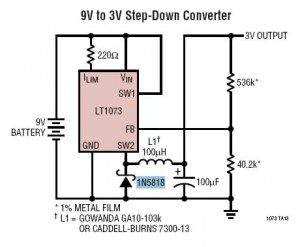 I want mini size switching regulator,so it input voltage 9V to 3V Step-Down Converter circuit.
The LT1073 is good idea,it used for dc to dc converter.
if want it,please read in http://www.linear.com .
Vout 3V at 100mA, L1 100?H , D1 – Diode 1N5818 or equiv
5V to 15V Step-Up Converter with IC LT1073
If you want DC converter 5V to 15V Step-Up voltage.
I like IC LT1073,It is important part of this circuit.
15V OUTPUT
100mA AT 4.5VIN
5V to 12V Step-Up DC Converter by LT1073-12
Here is the switching regulator 12V,so input 5V to output 12V at 0.13A.
It is Step-Up DC Converter by IC LT1073-12 Micropower DC/DC Converter.
I very like IC by http://www.linear.com because it is very small size and good ic.
3V to 15V Step-Up DC Converter by LT1073
This is a circuit 3V to 15V Step-Up DC Converter by LT1073.
It is very nice IC Dc converter or Switching power supply.
15V OUTPUT
27mA AT
VBATTERY = 2V
3V to 12V Step-Up DC Converter by IC LT1073-12
My cousin want buy IC dc converter,I like IC from www.linear.com because good ic,low cost and easy to used.
He are want 3V to 12V DC converter or switching power supply(switching-regulator).
Here is a DC converter Input 3V to output 12V,for electronics circuit.
The important part of the circuit is IC LT1073-12 again.
12V OUTPUT
35mA AT
VBATTERY = 2V
The Output Adjustable Flyback Converter 600V
A high voltage step-up DC power supply using adjustable flyback conversion.
Read More Source:Circuit : Simon Oh
12V to 24VDC Voltage Booster
This circuit will double almost any DC input voltage as well as handling plenty of current. 12 to 24V is just an example. With a few changes, it can also supply any desired output voltage.
There are many possible applications. One I can think of would be to get the 28V for the ADC connector on Gigabit Ethernet and later Power Macintosh G4s from the +12V on a standard PC ATX power supply. Basically any time you need more voltage than what you've got. Possibly on camping trips when you need 12-14 volts but only have 6V cells. Also you can use it to boost the cooling power of the fans in your computer if they can handle the extra voltage. Some can't. Keep reading for more on this. What I use it for is to increase the speed and thus the airflow of a standard 80mm DC brushless fan.
3V to 5V Step-Up Converter with Undervoltage Lockout by LT1073
This is Circuit Step-Up Converter with Undervoltage Lockout. By IC LT1073
3V INPUT BATT
5V OUTPUT 100mA LOCKOUT AT 1.8V
* 1% METAL FILM
†L1 = 68μH GOWANDA GA10-682k
OR CADDELL-BURNS 7300-11
1.5V to 5V Low Noise Step-Up Converter by LT1073
Here is Circuit DC to DC Converter Low Noise. OR
Circuit 1.5V to 5V Low Noise Step-Up Converter.
Using IC LT1073.
1.5V INPUT BATT
5V OUTPUT
20mVP-P RIPPLE
R 1% METAL FILM
L1 = 82H GOWANDA GA10-822k
OR CADDELL-BURNS 7300-12
Read Detail in Site Source:http://www.linear.com/pc/downloadDocument.do?
navId=H0,C1,C1003,C1042,C1031,C1060,P1272,D1661
12V Switching Regulator Boosts Input Voltage
In conventional applications, switching-regulator ICs regulate VOUT by controlling the current through an external inductor. The IC in Figure 1, however, driving a diode-capacitor network in place of the inductor, offers comparable performance for small loads. Made of readily available components, the network can double, tripple or quadruple the input voltage. Though somewhat less efficient than inductor-type regulators, the Figure 1 circuit offers equivalent line and load regulation.
A flyback converter high voltage supply by 555
The circuit diagram of the flyback converter will hold no surprises (Fig.16). Literally the only difference with the boost converter is that the inductor is replaced by a transformer, and that the transistor has been replaced for a BUZ21. The BUZ21 has a much lower on resistance (Ron=0.085 ohm) as compared to the BUZ41A (Ron=1.5 ohm) but also a lower drain-source breakdown voltage (100V versus 500V).
Simple 12-180V boost converter using the 555 as controller
The most interesting aspect of the circuit is how an ordinary 555 is used to regulate the output voltage. Now, there are hundreds of switched mode controllers ICs on the market which are all better suited for this job than the 555. The problem with all these ICs is that if you build a nice NIXIE clock using them, and at one moment in the future the IC breaks down, it is more than likely that it is already obsolete and out of production. The 555 is (very) cheap, performs well enough and most likely will remain in production forever.
12v to 18v DC Converter by LT1170
The supply works by shorting the inductor across the 12 volts through the regulator. This stores energy in the inductor. When the internal switch in the LT1170 goes off, the inductor is placed in series with the 12 volts, adding to it. This voltage pulse is stored in the output capacitor and smooths the output. The diode is used to keep the output capacitor from discharging during switching.
It contains a 100 khz current based oscilator whose output is controled by feedback provided by R1 and R2. These make a voltage divider such that at the wanted output voltage there is 1.24V at the junction of these two resistors. They carry only 1 ma of current and are there to provide a reference voltage to an op amp in the IC. As you draw more current from the output the total voltage would drop as would the 1.24v reference signal. The op amp feeds this to the oscillator telling it to provide more current to fill the demand. This brings the voltage up to 1.24v reference or 18 output. Reduce the load and the opposite happens.
Part list:
L1 inductor 100 µH Hurricane HL-AK210Q
Coiltronics PL52E-100-5000 must handle at least 3 amps
C1 capacitor 56 µf
33 µf Nichicon x1 UPL1E330MAH 25V ESR=.800 Irms=.155A
C2 capacitor 330 µf
390 µf Nichicon x2 UPL1V391MPH 35V ESR=.028 Irms=2.440A
Cc capacitor 1 µf
LT IC switching regulator Linear Technologies LT1170CT data sheet
D1 Schottky 5A Motorola 1N5824
1N5821 Any high speed diode that can handle the power would do. Schottky type is best but not absolutely required.
R1 resistor 16.7k; 1% R1 and R2 set the output voltage; The ratio of R1 to R2 should be 13.5 to 1.
R2 resistor 1.24k; 1%
Rc resistor 1k
12VDC Negative Voltage DC Converter by 555
The circuit is very simple, and is easily made on Veroboard or similar. Construction is not critical, and the schematic is shown in Figure 1 below.
Rectifier diodes should be ultrafast (UF4004 or similar), or you can use 1N4148 signal diodes. Losses will be slightly higher if you use signal diodes, or lower if you wanted to go to the trouble of using Schottky diodes – the latter are not warranted in such a simple circuit (IMO). The zener diode is to protect the circuit against transient overvoltage, and is optional
Using only a standard NE555 timer and a few other parts, this circuit should be up an running in about an hour. The 555 is configured as a minimum parts count astable (i.e. no stable states) multivibrator, and runs at around 17kHz with the values shown. The zener diode (D3) should be a 16V/ 1W type. Resistors are 1/2W carbon film, and small caps may be polyester or mylar
Tripler Converts 5V to 15V by MAX1683
By configuring a charge-pump voltage doubler as a tripler, you can readily derive 15V from 5V (Figure 1). A 15V rail is useful for powering op amps, LCD-bias circuits, and other low-current applications. The connections shown configure the IC1 voltage doubler as a tripler. The no-load output voltage of the circuit is approximately 3VIN -2VD, where VD is the voltage drop across one diode. Use Schottky diodes as shown to minimize VD and its effect on output voltage. Because the circuit's finite output impedance causes the output voltage to drop with load current (Figure 2), a practical limit for load current is approximately 30mA.
1.2V Drive 7 High efficiency white LED flashlight
High efficiency white LEDs have advanced to the point where they can replace glow bulbs and other light sources not only as indicators, but also for illumination. While many of the claims made about the LEDs' efficiency, light quality, lifetime and economy are mostly exaggeration, the truth is that for very low light levels they are now competitive. They have equal or slightly higher efficiency than a flashlight bulb, a longer lifetime, and are very much tougher. On the other hand, they are still far more expensive than a bulb, for a given light output.
The circuit is a self-oscillating boost converter, and I certainly cannot claim having invented it. It is ages old! I only did the detail design of this one, and optimized it in the course of one afternoon. It runs with a beautifully clean waveform, with all components except the LEDs staying completely cold to the touch. At this low power level, even that doesn't guarantee a good efficiency, but I measured it at about 72%, which is quite good for a circuit operating from such a low voltage!
12V to 18V step-up DC converter by IC 555
This is a power source that creates a DC voltage higher than the voltage feeding the it. It might be used to power your laptop (+18V) from a car battery (12V ~ 13.8V). It is built using very ordinary parts that should be readily available. Here are some specs:
Input voltage 9V ~ 15V
Output voltage 12V ~ 25V
Output current Max. 3A @18V
Switching frequency 20kHz – 40kHz
Efficiency 65% – 95%
If you know these circuits, please skip the following. The circuit is a step-up converter, and it's workings can be explained by the main property of a coil: its inductance. Imagine a current flowing through a coil. The inductance will cause the current to continue running, even if the power supply that caused this current is taken away. The voltage across the coil will take any value required to keep the current running. This is why you can easily create sparks with a coil, a spark is simply a current flowing at a very high voltage.
This circuit flips between two states: 'charging' the coil with current, and dumping this current into the output capacitor. The frequency at which this happens is so high that only a small ripple remains at the output capacitor (10000uF). Here is the circuit.
DC Converter 12V to 1.5V at 4A by 78S40
The 78S40 is a very old, but still useful power conversion chip. It contains a 1.25V reference, comparator, gating, output transistor, flyback diode and an uncommitted operational amplifier, which is not used here, and draws very little power. As the internal transistor and diode are good only for 1A maximum, I had to use external parts instead. Even so, the circuit is simple enough! A P-channel MOSFET was used as power switch, and an unknown toroid from my junk box was pressed into service for the filter choke. The circuit works very well, with an efficiency of better than 60%, which is superb for such a low voltage output!
I assembled the entire circuit, complete with power switch, in a small aluminum box measuring 4x4x6cm. The MOSFET and the diode were bolted to this box, for heat dissipation. The diode will dissipate around 2W at full output, so it would get too hot when free running. The MOSFET would probably have no trouble, as it dissipates much less power.
DC-DC converters 12V to 120VDC 20W by MJE2955
The design is a simple saturation-limited push-pull converter. There is no special reason to use PNP transistors; I used them simply because I had a box full of them around. You may well turn over the design to use NPN transistors.
The 2SC945 is a bias switch for startup. When applying 12V power, this transistor applies enough bias to the power transistors to get the oscillation started. Soon later, the 100uF capacitor charges up, the transistor goes off, and the power transistors self-bias into cut-off, such that cross-conduction is eliminated. After removing power, the 6k8 resistor discharges the bias timing capacitor, as otherwise the circuit would be unable to restart!
The secondary rectifiers are ultrafast diodes. These are NOT 1N4007! And the 220nF capacitors for the secondary filter are no typos; the diodes deliver almost pure DC, since the oscillation waveform is square, so only some noise filtering is needed. No electrolytics are necessary here.
5V 3A switching power supply by LM2576
Here is circuit switching power supply regulator 5V 3A for digital circuit.
Use IC LM2576 DC to DC step down voltage regulator.
Wide input voltage 8Vdc to 40Vdc.
9V Low Power Switching Regulator by IC RC4193
This is circuit Power Switching Regulator 9V low power,For Battery 2.4V to 9V.
It use IC RC4193 and little electronic part. Detail more see in circuit.
12V 5A power supply Regulator with LM2678-12
This is circuit Switching power supply 12V 5A.
Or circuit dc converterstep down voltage.
Use IC LM2678-12 SIMPLE SWITCHER High Efficiency
5A Step-Down Voltage Regulator.
Input DC Voltage 40Vmax and 16Vmin 5A.
Detail more see in image circuit.
5V to 12V DC DC Step-Up Converter by LT1073-12
In order to step up the voltage output from four rechargeable AA batteries from around 5 Volts to the required 12 Volts the following circuit is used.
The key component is the LT1073-12 DC/DC Converter Chip from Linear Technology. Click here for the comprehensive LT1073 Specification Sheet which includes many example circuits using this chip.
This £2 device (the 5V output version LT1073-5 is pictured above) requires just a few off-the-shelf components and operates with supply voltages from 1V to 30V.
The only additional components required to use an LT1073-12 as a 5V-12V DC/DC converter are a 150uH inductor, two 100uF capacitors,and a 50 Ohm Resistor. Total cost of these components is around £1.
Simple DC Converter For Digital Circuit by IC 555
This circuit Simple DC to DC Converter For Digital Circuit. It use Volt supply 5V Only, To Output Step up Volt 10V-12V DC max. I use IC 555 ( hot ic Timer) for Squarewave Oscillator to Driver mini Transformer and Diode, Zener Diode to Out DC Voltage.
Switching Regulator 0.5A by LM2574
The LM2574 series of regulator are monolithic integrated circuits that provide all the active functions for a step down (buck) switching regulator, capable of driving a 0.5A load with excellent line and load regulation.
Output Current 500 mA
InputMin Voltage 4 Volt
InputMax Voltage 60 Volt
Output Min 3.3, 1.23, 12, 15, 5 Volt
Output Max 57, 3.3, 12, 15, 5 Volt
Frequency Min 52000 Hz
Frequency Max 52000 Hz
Efficiency 88, 77, 72 %
Applications
-Simple high-efficiency step-down (buck) regulator
-Efficient pre-regulator for linear regulators
-On-card switching regulators
-Positive to negative converter (Buck-Boost)
5VDC to +12V and -12V Isolated dual Switching Regulator with LM2587
This circuit Dc converter step up voltage, For 5VDC to +12V and -12V Isolated dual Switching Regulator by IC LM2587-12V.
Voltage supply input 4V to 6V, Output current 0.3A.
Detail other see in circuit.

Detail IC LM2587
SIMPLE SWITCHER 5A Flyback Regulator
The LM2587 series of regulators are monolithic integrated circuits specifically designed for flyback, step-up (boost), and forward converter applications.
Output Range 1.23V min, 5V, 12V, 3.3V
InputMin Voltage 4 Volt
InputMax Voltage 40 Volt
Applications
1.Flyback regulator
2. Multiple-output regulator
3. Simple boost regulator
4. Forward converter
SG3525 DC Converter 12V to +35V,-35V
SG3525 DC/DC Converter 12V to +35V,-35V Switchmode Power Supply For Car Audio
The selected switching topology is called a "push-pull" converter, because the transformer has a double primary (or a "centre-tapped" one, if your prefer). The centre tap is permanently connected to the car battery (via an LC filter to avoid creating peaks in the battery lines, which could affect other electronic equipment in the car). The two ends of the primary are connected to a pair of paralleled MOSFETs each that tie them to ground in each conduction cycle (Vgs of the corresponding MOSFET high).
These MOSFETs should be fast, able to withstand high currents (in excess of 30A each if possible) and have the lowest possible Rds(on). The proposed On-Semiconductor?s MTP75N06 can withstand 75Amp and has a Rds(on) below 10 milliohm. This is important, because the lower this resistance is, the less power they are going to dissipate when switching with a square waveform. Another alternatives are MTP60N06, or the more popular BUZ11 and IRF540.
Although the schematics show a previous bipolar push-pull stage, you can also connect the gate resistor directly to the output of the controlling IC, leaving out the transistors, as the SG3525 is capable to drive up to 500 mA (theoretically), more than enough to switch the MOSFETs fast.
These MOSFETs should be fast, able to withstand high currents (in excess of 30A each if possible) and have the lowest possible Rds(on).
Voltage doubler with IC 555
parts:
U1 NE555 timer IC
R1 2.2k ohm resistor
R2 15k ohm resistor
C1 0.01 uF ceramic capacitor
C2, C3 220 uF electrolytic capacitor
C4 470 uF electrolytic capacitor
D1, D2 1N4002 diode
all resistors are 5 or 10 percent tolerance, 1/4-watt
all capacitors are 10 percent tolerance
this circuit rougly doubles the voltage of the input, however the current output is low. doubled output is at 'V source.
Nagative voltage generation using 555 timer


This is Circuit build Nagative voltage generation Form IC 555 timer ,It is Hot IC and Easy to Use.
LM2577 5V to 12V DC Converter step up Voltage Regulator
This is Circuit DC to DC Converter Step up Voltage Regulator From 5V To 12V 1A Regulated Output.
LM2577 (3A)
DC to DC step up voltage regulator.
Wide input voltage 3.5Vdc to 40Vdc.
Component list
- 2.2k 1/4W resistor
- 0.1uF capacitor
- 0.33uF capacitor
- 680uF 50V electrolytic capacitor
- 1N5822 high speed schottky diode (3A)
- wire coil inductor, 100uH
- "for LM2577-adj IC" 20k multi-turn variable resistor, set to ratio to R2=2k, R1=18k for voltage output of 12Vdc before soldering
Part number:
- LM2577-12 (12Vdc output)
- LM2577-15 (15Vdc output)
- LM2577-ADJ (1.23Vdc to 37Vdc output)
5V -1A Power Supply with LM2575
This circuit is derived from an application note of LM2575, It is a Power Switching Regulator from National Semiconductor.
LM2577 simple step-up converter 6V to 12V 1A
This step-up converter is intended for use in a '67 Citroen 2CV. This car, and I use the word loosely, has a 6V battery and won't support a modern radio that needs 12V. The circuit described here converts 6V to 12V at 1A sustained load current.
To implement this, I have used the LM2577T-ADJ from National Semiconductor. It operates conform the given discription and is connected like so:
5VDC to +12V and -12V Isolated dual power supply
This is circuit Isolated dual power supply OR DC to DC Converter Circuit. Input Voltage 5V,Output Voltage +12V and -12V.
Detail:
diode should be fast recovery type, for less than 100mA use 1N4148. transformer, pri-20-20, sec-60-60, a SWG-AWG to suit the current you design for.
Any fast switching transistor would work, no regulation, use regulators like 78L12 if you want, circuit like multivibrator used for flashing LED lights.
12V to 16V DC/DC Converter with LM2577
The circuit is a boost step-up regulator based around an LM2577-ADJ voltage regulator chip and a few other discrete components. Resistors R1 and R2 set the regulated output voltage.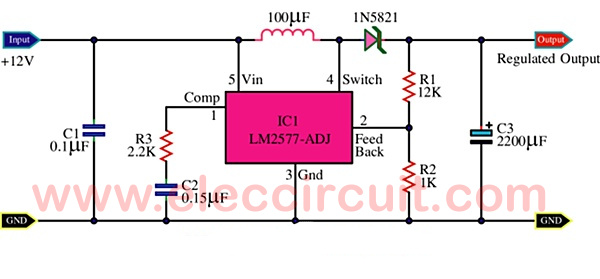 A switch inside the voltage regulator closes between pins 4 and 3, causing current to flow through the inductor to ground. When the switch is released a few microseconds later, a back-EMF 'kick' is produced by the inductor, resulting in a positive pulse with respect to the input voltage. This pulse charges the output capacitor via the schottky diode, which tends towards an equilibrium voltage.
The switch continues to oscillate, the diode preventing the switch from shorting the output capacitor during the 'on' phase. The output voltage is monitored via the voltage divider R1/R2, causing the duty cycle of the switch oscillator to be continuously regulated in order to maintain a constant output voltage under varying loads.
LM2678 DC to DC step down voltage regulator.


LM2678 (5A)DC to DC step down voltage regulator.(Switching power supply regulator)
Wide input voltage 8Vdc to 40Vdc.
Part number:
- LM2678-3.3 (3.3Vdc output)
- LM2678-5.0 (5Vdc output)
- LM2678-12 (12Vdc output)
- LM2678-ADJ (1.2Vdc to 37Vdc output)
Component list
- 45uF 50V electrolytic capacitor
- 0.47uF
- 6TQ045S high speed schottky diode
- Output 100V electrolytic capacitor (higher voltage, lower ESR)
360uF (for LM2678-3.3, LM2678-5.0)
220uF (for LM2678-12)
- 0.01uF
- wire coil inductor,
15uH (for LM2678-3.3, LM2678-5.0)
22uH (for LM2678-12)
MC33167T switching regulator 5V 5A/-5V ,12V /-12V
This is circuit Switching power supply for MP3 player for automobile. It is powersupply that can be operated from the 12V battery of the car. The supply uses the Motorola MC33167T switching regulator operating at 72 kHz. And consists of a 5V/-5V section and a 12V/-12V section. This to use the small space in my enclosure more flexible.
I See circuit on website many. I link good site :http://home.concepts-ict.nl/~cybersake/carmp3/ about Supply for MP3player. Very good for all user.
Detail in web::
I worked on a project to build an MP3 player for my automobile. I needed a PC powersupply that can be operated from the 12V battery of my car. I studied some datasheets and rolled my own switched mode power supply (SMPS). The supply operates with a battery voltage of 7.5V to 20V (Limited by a transiënt suppressor). The supply can be used with a 24V battery when you replace the transiënt suppressor by a 30V type. The 12V and -12V section has a nice feature: It operates in step-up mode when the input voltage goes below 12V. My supply uses the Motorola MC33167T switching regulator operating at 72 kHz. The supply consists of a 5V/-5V section and a 12V/-12V section. This to use the small space in my enclosure more flexible.
2W Switching Power Supply with 2N3053
In this small switching power supply, a Schmitt trigger oscillator is used to drive a switching transistor that supplies current to a small inductor. Energy is stored in the inductor while the transistor is on, and released into the load circuit when the transistor switches off. The output voltage is dependent on the load resistance and is limited by a zener diode that stops the oscillator when the voltage reaches about 14 volts. Higher or lower voltages can be obtained by adjusting the voltage divider that feeds the zener diode. The efficiency is about 80% using a high Q inductor.
Generating -5 Volts From a 9 Volt Battery With IC 555
A 555 timer can be used to generate a squarewave to produce a negative voltage relative to the negative battery terminal. When the timer output at pin 3 goes positive, the series 22 uF capacitor charges through the diode (D1) to about 8 volts. When the output switches to ground, the 22 uF cap discharges through the second diode (D2) and charges the 100 uF capacitor to a negative voltage. The negative voltage can rise over several cycles to about -7 volts but is limited by the 5.1 volt zener diode which serves as a regulator. Circuit draws about 6 milliamps from the battery without the zener diode connected and about 18 milliamps connected. Output current available for the load is about 12 milliamps. An additional 5.1 volt zener and 330 ohm resistor could be used to regulate the +9 down to +5 at 12 mA if a symmetrical +/- 5 volt supply is needed. The battery drain would then be around 30 mA.
MC34063A the inverting converter
The inverting converter is the power unit to make the negative output voltage with the positive input voltage. The converter which was made this time makes -2V to -10V output voltage with the input voltage of +12V. Because it makes the limitation value of the input electric current about 1.3A, the maximum with the input electric power is about 16W.
MC34063A Step-down DC to DC Converter
The step down converter is the power unit to make the output voltage which is lower than the input voltage. The converter which was made this time makes +2V to +10V output voltage with the input voltage of +12V. Because it makes the limitation value of the input electric current about 1.3A, the maximum with the input electric power is about 16W.
MC34063A Step-up Converter
The step up converter is the power unit to make the output voltage which is higher than the input voltage. The converter which was made this time can make stable output voltage with the input voltage of +12V. The stable output voltage can be controlled in the range of +13V to +32V. Because it makes the limitation value of the input electric current about 1.3A, the maximum with the input electric power is about 16W.
LM2597HV – SIMPLE SWITCHER Power Converter Step-Down Voltage Regulator
I like circuit power supply, See to more website. This is IC LM2597HV (Good IC Step-Down Voltage Regulator)
Intro detail:
The LM2597/LM2597HV series of regulators are monolithic integrated circuits that provide all the active functions for a step-down (buck) switching regulator, capable of driving a 0.5A load with excellent line and load regulation.
3.3V, 5V, 12V, and adjustable output versions
Adjustable version output voltage range, 1.2V to 37V (57V for HV version)±4% max over line and load conditions
Guaranteed 0.5A output current
Available in 8-pin surface mount and DIP-8 package
Input voltage range up to 60V
150 kHz fixed frequency internal oscillator
Shutdown# /Soft-start
Out of regulation error flag
Error output delay
Bias Supply Pin (VBS) for internal circuitry improves efficiency at high input voltages
Low power standby mode, IQ typically 85 µA
High Efficiency
Uses readily available standard inductors
Thermal shutdown and current limit protection
circuit dc to dc converter 12V to +/- 30V for car with IC SG3525
This is circuit Dc to DC Converter for Car Amplifier,
Input 12V to Out +30V and -30V for Preamp or Power Amplifier.
use IC SG3525 and Mosfet,Circuit Switching supply.
ICL7660 DC to DC Converter input 5V to output +/-5V
Voltage Inverter, +5 to +/-5V, Input Voltage 1.5-10V, or Voltage Doubler to 18.6V
ICL7660 Features
Simple Conversion of +5V Logic Supply to +/-5V Supplies
Simple Voltage Multiplication (VOUT= (-) nVIN)
Typical Open Circuit Voltage Conversion Efficiency 99.9%
Typical Power Efficiency 98%
Wide Operating Voltage Range

ICL7660 1.5V to 10.0V
ICL7660A 1.5V to 12.0V

ICL7660A 100% Tested at 3V
Easy to Use – Requires Only 2 External Non-Critical Passive Components
No External Diode Over Full Temp. and Voltage Range
DC-DC Converter Basics
A DC-to-DC converter is a device that accepts a DC input voltage and produces a DC output voltage. Typically the output produced is at a different voltage level than the input. In addition, DC-to-DC converters are used to provide noise isolation, power bus regulation, etc. This is a summary of some of the popular DC-to-DC converter topolopgies