120W MOSFET power amplifier by
 IRF540-IRF9540
Friends many you may admire MOSFET power amplifier, because of good sound and durable. Today I begs for to advise 120W MOSFET power amplifier by IRF540 and IRF9540 the circuit are the character of main Amp, Build not difficult , because of use power Supply Voltage lowness about +35V GND -35V. but use current about 3A circuit character cheap very is OCL Amplifier Class AB then good moderately sound. And systematically protect fully both of protect through the circuit a loudspeaker is damaged and other. When see the circuit has already use moderately equipment then not convenient for a novice , but still use in rows building meditation and check to repair MOSFET power amplifier. The circuit is other , get please sir
300W Mosfet power amp OCL HIFI Class AB by K1530+J201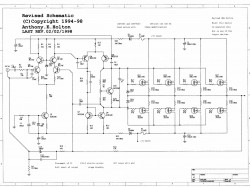 Younger student brother will take an interest to do electronics project sends a teacher. Then come to consult with me. He wants to build Mosfet power Amplifier 300W rms model the stereo Amp. Which be the character OCL the sound is good. I then try to seek the circuit gives him sees in rows the way , accidentally meet this circuit. which design by Anthony.E.Holton. He designs this circuit well. Use power 2SK1530+2SJ201 MOSFET x 4 jigsaw puzzle parallel amounts. make have power amplify tall arrive at about 300W rms true power FULL watt. Detail other part want friends see in original circuit
Mosfet Amplifier OTL 100W by K1058,J162
This includes a 220uF capacitor and two diodes to slow down the switch-on to reduce the output thump as the output capacitor charges through the speaker. This is not essential, depending on speaker sensitivity, with my own speakers there is just an unobtrusive low frequency sound at switch-on. With other applications such as a bi-amp or tri-amp system with active crossover filters, this addition may become more useful to avoid low frequencies reaching high frequency speaker drivers. It may also have some point if a high sensitivity speaker is used, so it makes sense to include it in this low noise version
Class-A MOSFET Amplifier by 2SK1058
This is simple Class-A MOSFET Amplifier, used mosfet 2SK1058 in circuit.
It is easy to make, Must use supply volte 24V at high current. read more
I am using this Class A Amplifier with a 12AU7 based valve preamp. It produces the most purest sound. I have no idea of distortion levels etc. but it has a very fine grain and delicately textured quality. With only one watt of output efficient speakers must be used. Bass is better than the design predicts and the amp drives my 12″ 63L based 3-way speakers with ease
Simple Class A Power Amplifier by IRF530
I was in need of high quality headphones amplifier because of many reasons and decided to build SDS Labs phone amp. This is extremely rewarding project in a sense that it is fully documented, includes PCB, parts list and building notes – so it's easy to build and then it sounds great. I have used IRF530 and IRF9530 pairs and they work just fine given the fact that you add 100-300 Ohm gate resistors to prevent high frequency oscillations. This is a common problem for MOSFET designs and if you don't have a good oscilloscope or want to be on the safe side just use gate resistors on any MOSFET design. Ferrite beads put over gate pin could also be used instead but I somehow prefer resistors.
Class A Power Amplifier by IRF530N+78L05
This is the best design I have came up so far!
I use two 6x6x4cm heatsinks per channel. Power supply is unregulated (just transformer, diode bridge and capacitors) but I cannot hear anything even when I put my ear within few centimeters of the loudspeaker. Opamp has very good power supply rejection ratio. I've tried to keep everything as simple as possible and basically LM317 would be just one extra opamp… If you are looking for better sound, get separate regulated low power supply just for the U1 opamp, something like +-15V at 100-200 mA.
I have also used one LM7805 to get bias for both channels – you may want to use two separate 7805 in a final amp to get better channel separation. R2 pot is anything from 500 to 50k. I have used 22k
The Zen Headphone Amplifier by IRF610
This circuit to obtain the best sound from my Grado SR-325 headphones. Portability here was not imperative, so the high power consumption of a real class A amp was not a big drawback. I developed this project at the beginning of 2002 and it was first presented at DIYaudio.com in February 2002. Since the intellectual property belongs to Pass Labs, this circuit is intended only for not–for–profit use, unless the current source topology is altered.
The schematic in figure 1 shows one channel of the headphone amp. The HexFets employed are the usual International Rectifier IRF610, both for the active side and for the current source. The circuit is quite simple, only one gain stage built around an IRF610 (Q2 at the bottom of the schematic), biased by another IRF610 (Q1). The two diodes (D1 and D2) are for over-voltage protection purposes: any type, between few volts and about 15-16V will work fine
Amplifier MOSFET HIFI 240W by BUZ23
Here is Circuit Power Amplifier MOSFET HIFI 240W by BUZ23
200W MOSFET Amplifier Hifi audio powerhouse
A compact audio powerhouse ideal for guitar or PA work or for use as a general-purpose subwoofer or hifi amplifier. Many people prefer Mosfets because of their legendary ruggedness. Altronics had a Mosfet amplifier module which produced 200W into a 4 Ohm load and so we decided to take a look it. It turned out to be based on the "Pro Series One" as mentioned above, although this version by Altronics has been derated and adapted to different Mosfets. It has a rated power output of 140W into 8W and 200W into 4 Ohm. Frequency response is within 1dB from 20Hz to 80kHz. Total harmonic distortion is rated at less than 0.1% up to full power and signal-to-noise ratio with respect to 200W is better than 100dB unweighted
Power Amplifier MOSFET HI-FI 300W by 2SK1058, 2SJ162
The amplifier consists of two completely separate monaural amplifiers each channel has its own power supply, resulting in zero inter-channel cross talk, a common phenomenon in amplifiers sharing the same power supply. In order to obtain the full output power each supply transformer should be rated at 40VAC – 0 – 40VAC at 640VA. Unlike many designs relying on the reservoir capacitors to supply peak currents, I prefer to have the raw power available from the transformer resulting in much faster transients. Although the RAS 300 specifications are moderate, when listening to it you will immediately experience the massive reserve power available and never have any cause of anxiety that something is going to give in that one would when driving many amplifiers loud. You will hear nothing but reality with no distortion at any level and I guarantee that this amplifier will divulge the best qualities of any equipment connected to it.
Simple Audio Power Amplifier 60W by K1058, J162
mosfet amplifiers there is no clear distinction between class-B and class-AB. For a bipolar output stage it is common to call a design class-B if the quiescent current, Iq, is adjusted for minimum crossover distortion, and class-AB if the current is increased well above this optimum level so that operation remains in class-A for small signals. (Not everyone agrees on this convention but it seems a sensible choice, for audio amplifiers at least, because these two classifications have rather different design problems. For example 'class-B' usually requires far more accurate quiescent current setting and thermal compensation for best results.) Class-AB causes higher distortion than class-B at higher signal levels where device switching starts to occur. For mosfets the distortion is generally highest at low quiescent current and reduces as Iq is increased, so there is not a similar optimum value giving minimum distortion. My choice of 100mA for the circuit presented here is because the mosfets used have zero temperature coefficient around this value, but with adequate heatsinks the current could be increased. With reduced supply voltage the circuit can even be biased into class-A for the lowest distortion, and here mosfets have some advantage because of their nearly square-law characteristics. If they were perfectly square-law then the peak output current in class-A would be 4 x Iq instead of 2 x Iq for typical bipolar output stages, and up to this level the distortion would be zero for ideal accurately matched complementary devices. Unfortunately well matched pairs are unobtainable, and they are not very accurately square-law, and they have non-linear capacitances, so even class-A still has its problems
Mosfet Power Amplifier 120W by K1058,J162
This amplifier evolved from the previous 6 transistor mosfet amplifier. That design was already so good there seemed no reason to look for improvements, but the high open-loop distortion at 20kHz and the resulting triangular 'error voltage' extracted suggested that the non-linear mosfet capacitance was responsible for almost all the distortion, and although the closed-loop distortion remains below 0.01% this could easily be reduced further by driving the mosfets from a lower impedance just by adding an emitter-follower.
Power Amplifier Mosfet OCL 70W HIFI Stereo with IRF640,IRF9640
This circuit is from David White's article in Electronics World (August 2001). It uses inexpensive HexFetâ"¢ Power MOSFETs as output devices. Since their transconductance is low, the rest of the design is geared towards producing maximum open-loop gain. Overall Negative Feedback is used to set the gain to 27dB and to reduce the distortion.
The input devices used (2SA970) are low-noise, high gain PNP devices. They have poor Vce(max), so their supply voltage is reduced using a simple Zener diode regulator built using R3, ZD1 and C3. T1 is used as a current source. The author of the original EW article mentioned using a plain gate-source connected JFET, which is selected to produce 1mA current. At Rs. 25 a pop, I was not about to do this with BF245s. Besides, the current for my G-S connected BF245s is around 7mA. Insert a resistance in series with the source to reduce the current. Since the source-drain current is dependent on the manufacturing process, you should select the resistor for each BF245 in a multiple-amp. system. The value should be selected for 1mA current. If required, use a 1k pot here.
Power amplifier 65W with HEXFET IRF540, IRF9540
A medium power amplifier that is characterized by a lot of good sound quality, but simultaneously is very simple in the construction. Him uses, enough time in my active loudspeakers. In his output stage exist the very good FET transistors, technology HEXFET, transistor which are controlled by voltage and no by current as the classically bipolar transistors. The circuit has symmetrical designing, resolving thus the harmonic distortion problem. All the transistors that are used in the circuit are simple and they exist in big clearings in the market. The pairs of differential amplifiers Q1-2 and Q3-4 should be matched between them and near the one in the other….
Part List
R1-15-16-21-22-17-18=1Kohm R33=68ohm 5W Q1-2=BC550C [matched]
R2=47Kohm R35-36=6.8ohm 1W Q3-4=BC560C [matched]
R3-4=10Mohm TR1=1Kohm trimmer Q5=BC560C
R5-6-13-14=1.2Kohm TR2=1Mohm trimmer Q6=BC550C
R7-12=47ohm C1=2.2uF 63-100V MKT Q7-11=BD140
R8-9-10-11=22ohm C2=1nF 100V MKT Q8-9-10=BD139
R19=82ohm C3-4=2.7nF 100V MKT Q12=IRF9540
R20=22Kohm C5=330pF ceramic or mylar Q13=IRF540
R23-26=56ohm C6-7=100uF 16V F1-2=Fuse 2.5A Fast
R24=2.2Kohm C8=1uF 100V MKT L1=see text [2]
R25=560ohm C9-11-12=100nF 100V MKT J1= 2pin connector 2.54mm step
R27-30=150ohm C10-13=470uF 63V
R28-29-31-34=15ohm C14=33nF 100V MKT Q8-10-11-12-13 on Heatsink
R32=150ohm 5W D1-2=LED RED 3mm [see text] [1] All the resistors is 1/4W 1% except quote differently
Power Amplifier 45W with HEXFET IRF9540,IRF540
A ideal solution for the make a good, low cost power amplifier. It's a ideal solution for the creation a system of home cinema. The preamplifier and the driver support in a operational amplifier [IC1]. The voltage fall in resistors R5 and TR2/R6, drive the output FET's gates and is proportional with the input signal level. Transistors Q1-2 function as voltage stabilizers in the supply lines, but ensure also the essential voltage fall, because the IC1 it should not they are supplied with voltage bigger ± 18V. …
Part List
R1=47Kohm C1-2-6-7=100nF 100V MKT Q5-6=IRF9540
R2-12=1Kohm C3-4=22uF 25V Q7-8=IRF540
R3-4=3.3Kohm C5=220pF styroflex TR1=5Kohm trimmer multiturn
R5=1.2Kohm C8-9=4700uF 63V TR2=1Kohm trimmer multiturn
R6=[1.2Kohm] 820ohm *See text C10=1uF 100V MKT F1-2=fuse 3A
R7=270ohm D1-2=15V 0.5W zener J1=2pin connector 2.54mm step
R8=220ohm IC1=LF411orAD711or LF351 J2=5pin connector 5mm step
R9=27Kohm Q1=BC550C
R10-11=22Kohm Q2=BC560C All Resistors 1/4W 1% metal film
R13-14-15-16=150ohm Q3-4=BC547B
Basic MOSFET amplifier 100W with 2SK1530,2SJ201
I propose you here a basic MOSFET amplifier. Output power is +/- 100 Wrms under 8 ohms or +/- 160 Wrms under 4 ohms.
Due to the circuit simplicity, distortion is +/- 0.1 %. Bandwidth at -3 db is from 4 Hz to 96 Khz, it is limited by C1, R1, C2 and R2.
Transistors T1 and T2 makes a first differential stage, current source of +/- 1 mA is set by R3. In the upgraded version, current source is more efficient in stability. P1 allows a fine tuning of DC voltage at amplifier's output. Place P1 at it's half value for first power up, then turn it slowly for a lowest DC output voltage. Use a first quality compoment.
Part
C1 = 2,2 µF MKP, MKT 100 V
C2 = 330 pF ceramique 50 V
C3 = 100 nF MKP, MKT 100 V
C4 = 100 µF 40 V electro-chimique
C5, C6 = 18pF ceramique 50 V
C7 = 100 nF MKP, MKT 250 V (C8 = 47µF 100 V)
R1, R3 = 47 K (R3 = 330 – 470 Ohms)
R2 = 2K2
R4, R5 = 3K9
R6 = 1 K
R7 = 27 K
R8, R9, R11 = 100 ohms
R10 = 10 K
R12, R13 = 470 ohms
R14, R15 = 0.33 ohms 5 watts
R16 = 10 ohms 3 watts (R17 = 1 K R18, R19 = 10K)
T1, T2, T9,T10 = 2N5401, ZTX558, BC556B (attention au brochage different – take care for pin layout)
T3, T4 = BF470, MJE350, 2SB649
T5, T6 = BF469, MJE340, 2SD669
T7 = IRFP240, 2SK1530, 2SJ162, BUZ900DP, BUZ901DP (attention au brochage different – take care for pin layout : GDS GSD)
T8 = IRFP9240, 2SJ201, 2SK1058, BUZ905DP, BUZ906DP (attention au brochage different – take care for pin layout : GDS GSD)
P1 = 100 ohms (25 tours – 25 turns)
P2 = 2K5 (25 tours – 25 turns)
F1, F2 = 3 A T
power amplifier OCL 180W MOSFET J50 and K135
Â
power amplifier OCL 180W MOSFET J50 and K135
Power Amplifier OCL 100W Mosfet J162 + K1058
This is circuit MOSFET power amplifier OCL, Output 100w ,
use mosfet k134+j49 or Mosfet J162 + K1058
Output 112W at Speaker 8 OHM.
Power Supply +56V/-56V 4A /Ch.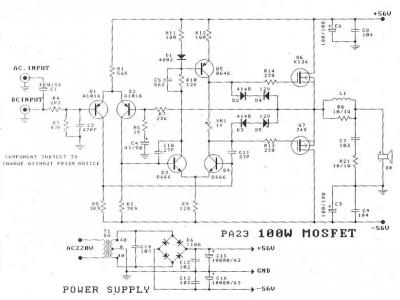 Circuit power amplifier ocl 100w Mosfet J162 + K1058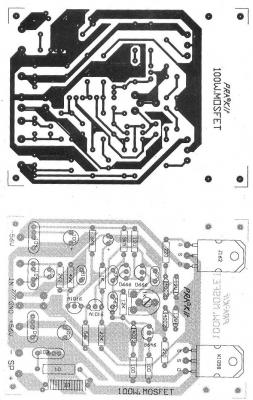 PCB power amplifier ocl 100w Mosfet J162 + K1058
Power Amplifier OCL 50W by Mosfet (K1058 + J162)
The 50W Power Amplifier OCL Mosfet (K1058 + J162) is easy to build, and very inexpensive.
To use Power Supply +35V -35V at 2A. Power Mosfet (K1058 + J162) must be mounted on heatsink.
Can be directly connected to CD players, tuners and tape recorders.

Circuit 50W Power Amplifie OCL Mosfet (K1058 + J162)

PCB 50W Power Amplifie OCL Mosfet (K1058 + J162)
Power Amplifier VMOS OTL 10 Watt
circuit VMOS 10 Watt Amplifier
Hello! This the circuit amplifies small-sized.it uses the equipment VMOS , number BD512 and BD522. which be pillar heart of the circuit. By it very the circuit is the character of OTL , make build easy and the price economizes. It is giving watt about 10W when , use force against 8ohm size loudspeakers and use a place turn on the power 33V sizes that the trend about 1.5A yes.