100w transistor inverter circuit diagram
This is transistor inverter circuit diagram 100watt it sizes are easy circuit. Because of use the all transistor, have no the integrated circuit. It performs to modify from battery 12V be 220V 50Hz signal square wave. By the circuit works with transistor BC558 x 2pcs and RC assemble the circuit produces 100HZ frequency from that time. There is the transistor BC558 2 again , build the circuit divides by 2 times frequency be left 50Hz frequencies from that time. There is the transistor BD139 and 2N3055 each other be Darlington for drive AC transformer 12V CT 12V : 220V, enhance ac voltage 12V from be 220V 50HZ fully be usable next. The detail is other see in inverter circuit diagram.
Power inverter 12Vdc to 220Vac using Cmos 4047
This converter has a central component, the CMOS 4047, and converts a 12V DC voltage to 220V AC voltage. 4047 is utilised as a astable multivibrator. At pin 10 and 11 we find a rectangular symmetrically signal which is amplified by tow Darlington transistors T1 and T2 and finally reaches the secondary coil of a transformer network (2 x 10V/60VA). Primary coil terminals voltage is 220 alternative voltage. To obtain a better performance use a toroidal core transformer with reduced losses. With P1 the output frequency can be regulated between certain limits (50…400Hz).
SCR Mini Power Inverter
This be Mini Power Inverter , by use SCR be main part electronics , perform Oscillator Generator 400Hz give Output 300V by use Voltage Input 12V Current 0.8A.
The only drawback with this circuit is that it might latch in the conducting state if the load is too heavy or if there is a short at the output, this requires some kind of protection, on the input line, in the form of a fuse or similar. The transformer used is a 10W mains type with 6V+6V windings on the SCR side and a 110V+110V windings, in series, at the output. Efficiency is 50% and the ideal load is equivalent to a 22k resistor, 5W. The output waveform is vaguely sinusoidal at a frequency of 400Hz.
Simple High Power inverter by 2N3055
This is Simple High Power inverter by 2N3055 circuit. It use power transistor 2N3055 x 4 pcs. Assemble be Oscillator muti vibrator Drive Transformer output 110V by Input battery 12V ,
The Transformer 4amp size for power output 50watt 110V,T1 6A for output power 100watt and T1 12A for power output 150watt.
Because of this circuit. Design be simple then not tall effective , but may advantage with friends at like the circuit is simple , at good effective. For other detail , friends sees in the circuit please yes.
Mosfet AC Power Inverter
I seeks a picture inverter circuit for experience build mini inverter project. Accidentally meet Simple Mosfet AC Power Inverter Circuit. Think should advantage with friends from the circuit uses integrated digital circuit number CD4001 for Pulse Oscillator Generator. Give power mosfet driver Transformer get Voltage output 110V or 220V from input 12 Volt (Battery 12V). For VR1 give for fine the frequency oscillator output. The other detail see in the circuit by have, Image source:http://cit.kmutnb.ac.th/ebook/
DC to AC Inverter by IC 555 and TIP41 TIP42
This be basic AC inverter Circuit. Convenient for the initiator who have to is extremely fond of something experience. Because of use IC 555 highly popular, perform produce the frequency ,then enlarge with transistor NPN and PNP number TIP41 and TIP42 drive the coil transformer. Get by can pay Voltage output about 120V to 230V at frequency 50Hz. By have R4 perform control the frequency and should use. Voltage supply about 5V to 15V the detail sees in circuit picture sir.
100W Square wave Inverter by CD4047, LM358,2SC1061,2N3055
This is AC Inverter. Input 12VDC from car battery to output 220V AC 50Hz or 60Hz at Square wave signal.
The main part is IC CD4047 and IC LM358 and Transistor 2SC1061 and 2N3055.
The transformer is 12V-012V Primary : 220V Secondary.
and current 3A up for power output than 100W.
Note:
C1 = 0.1uf metalized-film capacitor, 5% tolerance.
R1 = 47K for 50Hz output, 39K for 60Hz output.
300W inverter power 24Vdc to 220Vac by MJ15003,CA3130,CD4027
This is circuit 300W Inverter power,so input battery 24V to Output 220Vac 50Hz 300W.

I used main Component IC CD4027 , NE555,CA3130 and LM7805. The transistor power MJ15003 driver transformer 24V 10A min.
The VR1 – 100K is control Frequency output at 50Hz 50Hz or 60Hz at Square wave signal.
The VR2 – 50K is control voltage output at 220V.
Note:
C6 = 0.1uf metalized-film capacitor, 5% tolerance.
Please read more in image circuit.


PCB:300W inverter power 24Vdc to 220Vac by MJ15003,CA3130,CD4027
Mini Flourescent Lamp Inverter
This is the typical circuit from a scanner that drives the flourescent lamp. There is also usually a 2KV capacitor in series with the secondary of the transformer to limit current, etc. They can be used as a general high voltage source for all kinds of things.
12v Fluorescent Inverter by TIP3055
This is a low-cost project for 20 or 40 watt fluorescent tubes. However the most efficient is to use a 40 watt tube (or two 20 watt tubes in series). It's a circuit you can put together from junk box components or build from a kit. It's very simple to build and requires no printed circuit board.
The transformer is hand-wound on a ferrite rod (from an old transistor radio) and the winding wire can be salvaged from an old transformer.
Tubelight Electronic Choke
This is an electronic choke for a Conventional Fluorescent Lamp. This was an application note of MJE13005 a High Voltage Switching NPN Power Transistor. I Might have modified it. This was very popular in the early days, The Coil Winding and Ferrite is very Critical design.
The diodes, npn transistor and caps are high voltage 350V-1KV, The tubelight is 40W-60W 5 feet long. This circuit replaced the choke and starter in an existing frame.
500W Mosfet Power Inverter from 12V to 110V-220V
This circuit will provide a very stable "Square Wave" Output Voltage. Frequency of operation is determined by a pot and is normally set to 60 Hz. Various "off the shelf" transformers can be used. Or Custom wind your own FOR BEST RESULTS. Additional MosFets can be paralleled for higher power. It is recommended to Have a "Fuse" in the Power Line and to always have a "Load connected", while power is being applied. The Fuse should be rated at 32 volts and should be aproximately 10 Amps per 100 watts of output. The Power leads must be heavy enough wire to handle this High Current Draw … More information
Fluorescent Lamp 8W driver by C1983
The schematic for the 8 Watt driver will show you that this design is quite different from both previous ones. It uses capacitive ballasting like the 2 Watt driver, and a two-transistor saturation-limited oscillator like the 20 Watt design. But note an important difference: This circuit has a choke added in the DC supply, that produces more effects than you may think: Thanks to this choke, mutual conduction between the two transistors is no longer a problem, allowing for a very simple drive scheme and almost lossless operation. The input current becomes almost clean DC, minimizing further filtering requirements. And the waveform becomes a quite clean sine wave, which gives a tremendous advantage in terms of radiated noise! This lamp can be used in a radio station without causing any interference.
110VAC Inverter for Automobile by 4013, 555, 4020, and 4049
The design depends on the windings ratio and the value of the car battery to produce an AC waveform of approximately 95 volts RMS. No filtering is performed on the secondary since the transformer blocks most of the sharp edges from the input waveform.
All of the devices (4013, 555, 4020, and 4049) should have their supply pins connected to the +12 supply. The nice thing about CMOS logic is that it will operate over a wide range of voltages. Before connecting the center tap of the transformer, adjust R3 until the signal on U5 pin 13 is 120Hz.
The 4013's are used to produce a 60Hz square wave with an accurate 50% duty cycle and to force the FET switches operate in a break-before-mate manner. The 4049′s have enough drive capability to snap the FET's off and on very quickly.
Mini Inverter 12V to 120V by TIP32
Ever needed a low power 120volt AC power source for your car, van or truck? Well this circuit should do the trick for you. It will supply 15 watts of AC power to a device. It should power lamps, shavers, small stereos and small appliances. If you draw to much power the circuit will shut down all by itself. The output of this circuit is a square wave so there may be some noticeable hum on audio units plugged into it. To reduce some of the hum increase the value of the output capacitor which is at .47uf now. That transistor in the circuit are high power PNP transistors. Radio Shack part number 276-2025 are good ones to use or TIP32. The transformer is a 24 volt 2 amp center tapped secondary Radio Shack part number 273-1512 or equivalent.
Mini inverter 12V to 220V by 2N3055 , 2N2905
Here is circuit mini or simple power inverter. Use Transister 2N3055x2 and normal part Electronic.
Input Voltage 12V Form battery source, and Output 220V.
A simple inverter for florescent lamps by D882
This inverter is very easy to construct, reliable, and even powerful enough to light up a 15W florescent tube (if you cool your transistor well). The only hard-to-find piece of this baby is the so-called yellow inverter transformer. It's a miniature high frequency transformer that has a 25mm x 20mm x 5mm ferrite core, 30 turns of primary, 15 turns of feedback, and 250 turns of secondary all concentric, wound on plastic frame than wrapped with a 'yellow' adhesive tape. If you can't find it in your local electronic shops then search for old portable rechargeble florescent lanterns since they have at least one yellow inverter. Of course you can wind a handmade transformer which would do the same but it is a very difficult task when you don't have an original to inspire and it will still need an appropriate ferrite core.
mini inverter 10W-30W by Transistor D313
This is AC circuit mini inverter 10W – 30W. It Converts 12VDC to 220VAC Output 10W to 30W . Use easy Circuit Square Wave Oscillator Generator 50Hz.
So Boost up Current High by D313 or H1061 or TIP41, Drive Transformer output 220V 50HZ From Voltage Supply 12V 1A – 2A.
Inverter 100W 12VDC to 220V by IC 4047 – IRF540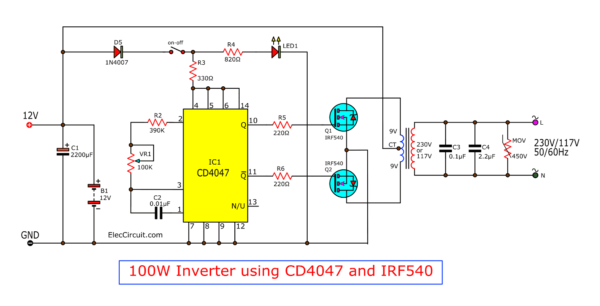 This is inverter 100W circuit, use IC 4047 alike inverter 100W transistor I use Mosfet IRF540 instead Transistor 2N3055.
It good Idae, power output 100W from transformer 2-3A.
12V to 220V Inverter 180W by 2N3055
This is AC Inverter circuit ,It Converts 12VDC to 220VAC Output 180W. Use easy Circuit Square Wave Oscillator Generator 50Hz.
So Boost up Current High by 2N3055 Drive Transformer output 220V 50HZ From Voltage Supply 12V 10A.
12 Volt Fluorescent Lamp 20W Drivers
Here is the schematic diagram for a 20 Watt driver. I developed this circuit in 1985, and used it to build a lamp that found much use both as camping light and as emergency light during the then-frequent power outages.
The two transistors work as a push-pull oscillator. To avoid crossover conduction, during operation the bases are self-biased to a slightly negative voltage by the 1R5 resistor. The 220uF capacitor gives strong positive bias during power-up, in order to get the oscillator started. 2k2 resistors only purpose is discharging the capacitor when the circuit is switched off, so it will restart the next time too!
2N3055 Simple inverter 5W
This simple inverter. the main aim of this circuit is to provide a suitable supply for all kind of low power battery chargers that normally connect to the mains such as mobile phones, electric shavers, etc, even an electronic neon light rated at 5W was successfully connected.
Only easily obtainable components are used.
110VAC Inverter for Automobile by 555,4020,4049,IRF530
This circuit will allow you to operate small devices like laptop computers inside your automobile without an expensive automobile power supply.
The circuit takes advantage of the fact that power transformers are linear devices and can be used to step up as well as step down. This is evident by the fact that the supply drives the secondary and the output is on the primary.
12VDC Fluorescent Lamp Inverter with Mosfet
It uses a normal 120 to 6V stepdown transformer in reverse to step 12V to about 350V to drive a lamp without the need to warm the filaments.
Q1 must be installed on a heat sink. A 240V to 10V transformer will work better then the one in the parts list. The problem is that they are hard to find. This circuit can give a nasty (but not too dangerous) shock. Be careful around the output leads.
Simple AC to DC converter 9VAC to 35VDC
Simple AC to DC converter 9VAC to 35VDC
This again idea example ac to dc converter model to be simple. By modify 9VAC to 35VDC from when how many is see the circuit has already. Me uses base equipment only not? can enhance electricity pressure. See the detail in circuit picture.
Inverter 12V to 220V 300W by NE555,2N3055
Inverter 12V to 220V 300W by NE555,2N3055
This be inverter circuit the size about 300W .It performs to transform from battery 12V be house electric 220V 50Hz
by have signal picture is Square wave. And it has the distinction that uses the equipment seek easy, such as integrated
circuit NE555 and 2N3055 transistors. request to have fun circuit this idea.
INVERTER 4W by TL494
R.E.E.Robinson VK2ILV
7 Roland Ave. Wahroonga 2076
Sydney, N.S.W. AustraliaAn inverter power supply suitable for valve radios is described.
This inverter uses a small single sided Printed Circuit Board (PCB). Use the overlay to position the components. Test all the resistors, diodes, transistors, and capacitors before using them. The transformer and Integrated Circuit (IC) are difficult to test, so just use them and hope for the best.These instructions assume that the inverter will use a 9 volt battery and be intended to supply B+ in a radio. The inverter is activated by the filament current, which is controlled by the radio's ON/OFF switch.CIRCUIT
The inverter is based on the TL494 integrated circuit. This is a switching regulator that will operate with an input voltage of between 7 and 40 volts DC. This input voltage is supplied to the IC through a reed relay. The reed in normally open. When filament current from a valve radio passes through a coil, the magnetic field makes the reed close and energises the inverter. The oscillator starts slowly (over several milliseconds) as C1 charges through R4. If this is not required, omit C1 and replace R4 with a wire link. The oscillator frequency is set by C2 and R5 and runs at 100 khz, for efficiency. The oscillator saw tooth waveform can be seen at pin 5 on the IC using an oscilloscope. The 2 internal switching transistors drive 2 external switching transistors which switch the battery voltage into a transformer. The secondary of the transformer is rectified and provides a DC voltage. The output frequency is high, so ordinary silicon diodes are not suitable and schottky diodes which switch fast and have a low voltage drop are preferred. Similarly, the output capacitors have high frequency currents, and so special capacitors are required also. The output voltage is fed back to the error amplifiers and is compared to a 5 volt reference. This is done with a simple voltage divider consisting of R1, R2 and R3. The 5 volt reference is applied to the error amplifier, and the output voltage divider is also applied to the error amplifier. The regulator adjusts until the inputs match, and so regulation occurs. It regulates by adjusting the time that the output transistors are turned ON. If the voltage is too low, they are turned ON longer, and if the output voltage is too low, they are turned ON, but for a shorter duration. The voltage divider is used to set the output voltage. It must be between 0 and the maximum output voltage of the transformer. The step up ratio of the transformer determines the maximum output voltage. I have used R1 and R2 as a series combination to set the voltage, as I could not get exactly the desired output voltage using preferred values.
DC12V to AC Volt Inverter by IC 4069 and Mosfet

The invertor that I made this time uses power MOS FET as swtching device. I assum that this unit is used with the battery of car. So, the input voltage is +12V DC. The output voltage is AC 100V. However, input and output voltages aren't limited to this. You can use any voltage. They depend on the transformer to use. The wave form of the output is square wave. In my experience, it is usable with a lot of home electronics equipment. The electric power which is possible to handle is decided by the transformer to use. This time, I am using the transformer with 12V-10A(secondary side). So, it is possible to handle 120VA(about 100W).
I was asked about 220V output from some readers. The output voltage of the inverter is decided only in the transformer. You can use the transformer with 220V as for primary(input) and 12V as for secondary(output). At my circuit, primary and secondary should be used oppositely. Then, you will be able to get AC220V from DC12V.
12V To 220V 50Hz Inverter 50W by M706B1


Circuit 12V To 220V 50Hz Inverter 50W by M706B1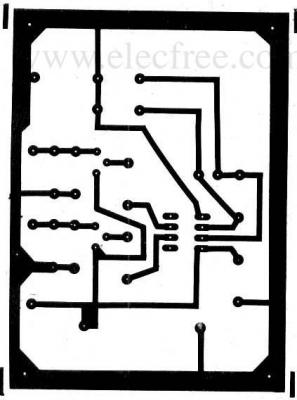 PCB 12V To 220V 50Hz Inverter 50W by M706B1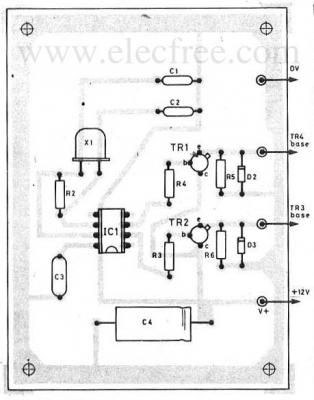 6V to 12V Converter by transistor
This inverter circuit can provide up to 800mA of 12V power from a 6V supply. For example, you could run 12V car accessories in a 6V (British?) car. The circuit is simple, about 75% efficient and quite useful. By changing just a few components, you can also modify it for different voltages.
Notes
1. L1 is a custom inductor wound with about 80 turns of 0.5mm magnet wire around a toroidal core with a 40mm outside diameter.
2. Different values of D3 can be used to get different output voltages from about 0.6V to around 30V. Note that at higher voltages the circuit might not perform as well and may not produce as much current. You may also need to use a larger C3 for higher voltages and/or higher currents.
3. You can use a larger value for C3 to provide better filtering.
4. The circuit will require about 2A from the 6V supply to provide the full 800mA at 12V.
Micro Inverter by 2N6121
This is Micro inverter or The inverter very small-sized, perform modify from the energy battery the small-sized , have the value voltage about 220V AC Volt 50HZ. By the circuit composes 2 transistors performs pulse oscillator generator or Square wave generator, for drive the coil transformer have voltage tall about 220V at 50Hz frequencies. By can change the value RC when give the frequency can modify. This circuit have current about 100mA depend on the transistor and Transformer. The detail is other total up PCB see in a picture below.
Circuit Micro Inverter by 2N5121
Diagram Micro Inverter by 2N5121
Inverter 100W by IC 4047 + 2N3055 with PCB
This circuit power Inverter 100W, so input voltage 12V (battery 12V)
to output volt 220V ac 50HZ, it is asy circuit because less component to use.
It use IC CD4047 Squarewave Oscillator 50HZ and
Power Transistor 2N3055 x 2 For driver transformer 220V ac to OUTPUT Power 100W min.

Circuit Inverter 100W by IC 4047 + 2N3055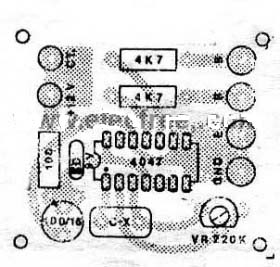 PCB Inverter 100W by IC 4047 + 2N3055
Inverter 12V to 220V 100W by Transistor
This circuit power Inverter 100W, it easy and good ideas.
When use the electric appliances that want 220V AC 50HZ, which have small-sized about 100Watt not exceed. By when you apply outside home, as a result have to have Mini power inverter about 100Watt, perform modify from work electricity forces of battery 12V give tall fair the work. If you are New user electronics or want to economize or want to build electronics project use by oneself. I begs for to advise this circuit , because it uses , transistor number BC557 or the number replaces, perform oscillator generator. Then have power transistor 2N3055 numbers perform to drive coil transformer for converter voltage give tall go up 220V AC 50HZ at the electric power about 100 watt not exceed. When apply to transformer about 2A-3A. Picture circuit detail and like model PCB Board.

Circuit Inverter 12V to 220V 100W by Transistor
PCB Inverter 12V to 220V 100W by Transistor